Hosting Services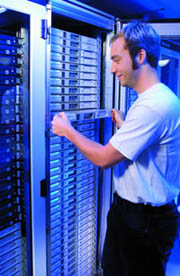 IntelliTree's dedicated colocated hosting infrastructure provides various Internet hosting services. Our hosting services include:
Web Hosting

PHP5, CGI, Ruby on Rails, perl, bash
MySQL 5 databases
FTP, SFTP and SCP access
Generated Web stats

DNS Hosting, domain parking
E-Mail
Mail Filtering

Mail "Store and Forward"
Spam Filtering
In addition to the above standard hosting services, we also offer special hosting systems such as FileDelivery™ and Internet Backup (ITRBS). We also offer hosting services for custom applications and special cases.
Our servers enjoy 99%+ uptime, and 100Mbps connections to the Internet. Servers are collocated in a world class data center and backed up daily.
All needed hosting services are automatically provided to Managed IT customers.
For more information on our hosting services, and for standalone pricing and availability, Contact us.