Cybex International, Inc.
Cybex is a world leader in the development and manufacture of high-end fitness equipment. With hundreds of products ranging from their market-leading ARC Trainers to high performance treadmills and bicycle ergometers to the world's most respected strength training machines, Cybex markets primarily to the commercial, institutional and professional markets in the US and more than 70 foreign countries.
Known for more than 35 years for creating and developing innovations in health technology and fitness programming, Cybex acquired the exclusive worldwide rights to a patented new technology called TRAZER in 2003. TRAZER is like a flight simulator for human performance. It tracks the movement of a player's body in true 3D in a space large enough to allow realistic sports simulations and functional activities. The player's reaction time, quickness, power and agility control games and specialized training and rehabilitation drills. TRAZER is used in medical, sports training and fitness facilities.
Advancing the technology
In 2005, Cybex contracted IntelliTree Solutions to enhance TRAZER system performance, improve critical measurement accuracy and add many new features to create their new TRAZER2 simulator. To accomplish this, IntelliTree engineers had to deconstruct a large body of existing, integrated code and create a completely new architecture using a modular approach. To write code for new features and measurements, they also had to develop an understanding of the system's electronic infrared technology and the many human factors issues that can complicate accurate performance measurement.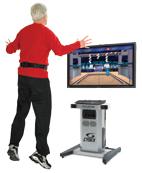 Major additional goals of the project were to make the code more efficient and compact, decrease processing overhead, improve communications between system firmware and PC CPU, and to make all of the new code Linux compatible to allow moving away from the expensive and comparatively inefficient Windows XP Embedded platform.
To create the new system, IntelliTree developed...
an improved 3D position tracking engine
a streamlined TRAZER OS platform
a post-activity result data processing engine to enable sophisticated error-detection and correction methodologies
a relational database system to allow storage, analysis and sharing of activity data among multiple TRAZER units and locations
systems for on-site calibration of measurement accuracy and synchronizing multiple units in a facility
an advanced graphics engine for generating detailed performance analysis reports
IntelliTree and Cybex recently released the new TRAZER v2.0 software. IntelliTree continues to manage ongoing software development for TRAZER and expects exciting new projects to lie ahead.
For more information, please visit the official Cybex TRAZER website: www.cybextrazer.com
"Being very familiar with real time measurement and control systems, the amazing thing for us was to see how quickly IntelliTree was able to deconstruct complex, undocumented existing code and completely rewrite system functions to work better and faster. Their ability to work across multiple disciplines – system operation firmware, graphics, data acquisition and analysis, database architecture and design, and to understand and integrate solutions for human factors as well – is truly uncommon in the industry regardless of company size."
"Allowing for the inevitable changes and additions that occur in any complex project, IntelliTree brings in the work on-time and on-budget"
"Their ability to work smoothly and efficiently with other vendors and suppliers was particularly valuable."
– Ray Giannelli, Sr. VP of Research and Development, Cybex International, Inc.