Evertz Technology Services USA, Inc.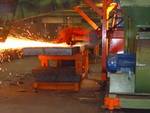 When The Evertz Group opened their U.S. division, Evertz Technology Services USA (ETS) in 2003, an existing customer referred them to IntelliTree to provide IT solutions and services for their new operation based in Middletown, OH.
ETS' parent company, Evertz KG of Solingen, Germany, has provided services for the metallurgical industry since 1956. They design and manufacture some of the worlds' most efficient and highest capacity metal working machines, and are known for developing innovative ideas and processes to improve quality and cut costs for steel manufacturers. In the Middletown facility, ETS uses specialized Evertz KG machines to surface grind massive stainless steel slabs for AK Steel – a Fortune 500 company and one of the world's highest technology steel manufacturers.
ETS' Middletown plant is an ISO 9001:2000 certified facility that requires the highest levels of quality control and reliability in all aspects of its operation including its data and network infrastructure. In addition to designing and installing ETS' factory and office network, and providing them with ongoing guaranteed service as a Managed IT customer, IntelliTree developed a complex custom software and hardware solution to facilitate and streamline ETS' factory operations.
ETS provides outsourced slab-grind, torch-cut and related steel inspection services for AK Steel. The Evertz Group are industry leaders in this field, and are always on the cutting edge of this technology.
Barcode Inventory Operations System Operates in Harshest Environment
In 2004, IntelliTree began development of an enterprise software package to track and manage ETS' slab-grinding operations. ETS required a real- time system based on the bar codes of the slabs received from AK Steel.
Instead of taking an approach based on a costly propriety barcode product, IntelliTree used open-source technology to implement a real-time database architecture. Using WiFi communications and handheld PDA barcode scanners, IntelliTree created a web-based Intranet system to track and manage ETS' slab inventory, processing, and shipping.
With airborne steel dust from grinding operations collecting on all surfaces, every piece of electronics hardware has to operate under the harshest conditions. IntelliTree installed a fault-tolerant WiFi mesh network across the 900-foot-long plant which provides uninterrupted use of the handheld scanners in any location. Because of the physical size of the network, repeaters had to be installed throughout the wired network to support the access points mounted in the ceiling. IntelliTree utilized PoE (Power over Ethernet) devices to supply power to the access points and repeaters which provide connectivity all the way back to the office LAN where managers pull up specialized reports detailing real-time and historical operating data, and planning information.
Maximizing Value with Worldwide Access, Control and Data Sharing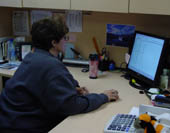 As a standard part of Managed IT service, IntelliTree provides remote VPN access to the ETS network which enables secure access from anywhere in the world, and because the Inventory system is based on web technology, managers can access operations data via the Internet.
To further leverage the hardware and software technology already installed to support the handheld devices, IntelliTree worked with Evertz engineers to connect PLCs (programmable logic controllers) in the slab grinding machines to the network so that they can be directly accessed from Germany over the VPN. Evertz engineers can not only access the Intranet system to view real-time operations data, but can also remotely connect to plant equipment to diagnose, troubleshoot and program without the lost time and expense of a trip across the Atlantic. This is possible because IntelliTree utilized open standards that maximize compatibility across all types of network devices.
Leveraging the wireless network already installed to support the handheld devices, IntelliTree worked with Evertz Engineers to connect the PLC devices to the same network which could then be accessed from Germany over the VPN. This was possible because IntelliTree utilized open standards when the network was installed that maximized compatibility across all types of network devices.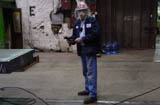 After initial deployment of the ETS network, IntelliTree worked directly with AK Steel to interface the ETS system with AK's database. Now, AK's system automatically sends data directly over the Internet into the ETS database replacing thousands of man hours of data entry.
IntelliTree continues to maintain the ETS network and inventory tracking system, continuously adding new features and reports to the application.
"IntelliTree worked with us to understand not only our business requirements, but the intricacies of our plant operations as well. The wireless barcode scanner system they built for us tracks and manages our entire operation. It allows real-time data access, and machine diagnostics and programming from anywhere in the world. I was amazed at how inexpensive and reliable a totally custom solution was compared to mainstream ERP and Inventory solutions that are on the market. We rely on IntelliTree for all our IT needs."
"IntelliTree's Managed IT service makes our entire network worry free."
– Bob Hendricks, General Manager, Evertz Technology Services USA, Inc.