Cinergy Field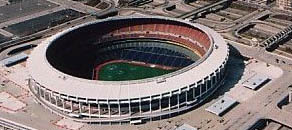 IntelliTree provided IT services for Cinergy Field as a part of its larger contract with SMC (Stadium Management Company).
Services included maintaining the network and PCs for the management operations of the stadium, as well as development and maintenance of the stadium's official website. IntelliTree managed IT for Cinergy Field until the stadium's demolition in December 2002.
"IntelliTree helped manage all aspects of technology related to running Cinergy Field including the network and PCs in the Stadium itself as well as the network and PCs at SMC headquarters.
Working with IntelliTree was a pleasure – always on task, smart and courteous, their staff understood the importance of reliability in the Stadium's systems. They always kept everything running smoothly."
– Greg Exterkamp, Co-Owner, Stadium Management Co.
Cinergy Field has since been replaced by The Great American Ballpark and Paul Brown Stadium.